The Return of Glad2Mecha & ILL Treats (Building Block Records / HHV)
Sieben Jahre nach Hello (Nicht Lionel Richie!!!) haben die beiden Hip Hop Protagonisten endlich wieder ein neues Album am Start: "The Return of Glad2Mecha & ILL Treats". Das Album ist als Deluxe Edition inkl. aller Instrumentals über das Label-Duo Building Block Records / HHV (HHV740) erschienen. 500 Kopien wurden von der 2LP gepresst. Erhältlich ist das Doppel-Vinyl in den Online-Shops von HHV Records und Fat Beats.
Trackliste – The Return
(Download / Stream: buildingblockrecords.bandcamp.com/the-return-lp)
Side A
1. Morning Traffic 02:34
2. On The Mic 03:02
3. Represent ft. Realistic 03:41
4. Emcee's Point of View 02:53
5. So Many Styles ft. Psycho Les 02:56
6. On Shit 03:03
7. Return Interlude 00:30
Side B
8. Make It Happen ft. Grand Puba 02:27
9. Stupid Fresh 02:46
10. Cup Of Tea Freestyle Skit 00:40
11. Cool Like That ft. ScienZe 02:42
12. One Love 03:36
13. Moving Forward 03:38
14. All A Dream 04:39
(Download / Stream: illtreats.com/the-return-instrumentals)
Side C and D
Instrumentals (Vinyl only)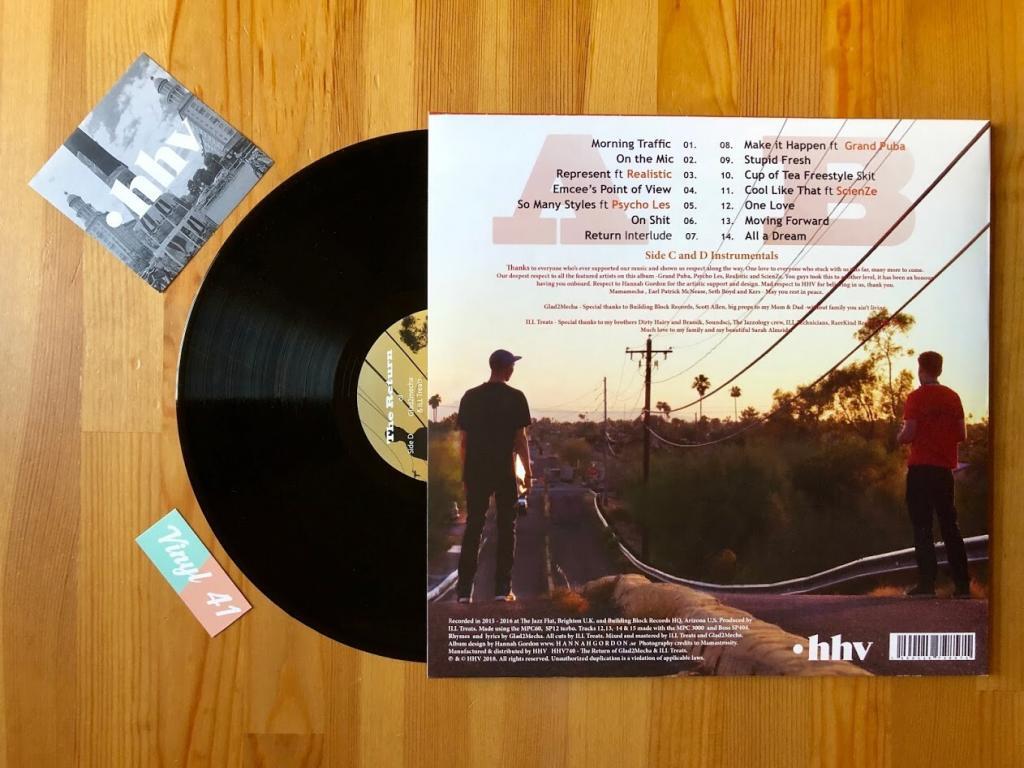 »Here's the long-awaited follow up to "Hello", the first collaborative effort by MC Glad2Mecha and producer Ill Treats. "The Return" features guest spost by the likes of Grand Puba of Brand Nubian fame, Psycho Les of Beatnuts fame, ScienZe and Realistic. Very dope Jazz Rap for fans of Guru's Jazzmatazz, Jazz Liberatorz or Slum Village […]«
released February 8, 2019
Wertung für The Return of Glad2Mecha & ILL Treats
Meine Wertung: 9/10 für "The Return of Glad2Mecha & ILL Treats". Die zweite englisch-amerikanische Co-Produktion zwischen dem Microphone Controller Glad2Mecha aus Phoenix, Arizona, USA und dem Beat Smith ILL Treats aus Brighton, UK hat wieder ein klassisches Hip Hop Album hervorgebracht. Boom Bap Beats und Jazzsamples des Produzenten fusionieren mit grandios abgestimmten Lines des MC und seiner Gäste Grand Puba (Brand Nubian), Psycho Les (Beatnuts), ScienZe und Realistic. Nach dem ersten grossen "Hallo" ist auch "die Rückkehr" von Glad2Mecha & ILL Treats ein grossartiges (Doppel-)Vinyl geworden, dass mit den Instrumentals auf den Seiten C und D sogar doppelt punkten kann.
Favoriten: Morning Traffic, Represent und One Love