Radio Juicy presents: Fear And Loathing In Beats
Glückwunsch zum 7. Geburtstag und zu dieser exzellenten Compilation. Mit "Radio Juicy presents: Fear And Loathing In Beats" (RJ082) hat es unser Jubilar Radio Juicy mal wieder so richtig krachen lassen. Veröffentlicht, hergestellt und vertrieben wird das auf 400 Kopien limitierte Doppel-Vinyl von Urban Waves Records. Das Mastering stammt aus der Analogschmiede von Staub audio engineering / Sterilone. Für Artwork und Layout von Gatefoldcover und Vinyl-Label ist James Neilson verantwortlich.
Seit 2012 ist Radio Juicy im Namen des (Instrumental) Hip Hop unterwegs. Zur Feier des Tages hat das Label viele wegkreuzende Produzenten gewinnen können, die den Jubiläums-Sampler "Fear And Loathing In Beats" – wie schon damals™ beim Debüt RJ01 – prall gefüllt haben. 50 Beatschmiede. 32 Tracks mit fetten Beats zwischen Lo-Fi und Jazzhop. Hausnummer!
Meine Wertung: 9/10. Favoriten: "Devaloop & Samura Loré – Scions", "leavv & Psalm Trees – Prism", "The Breed – Journey" und "Joe Corfield & Philanthrope – Cashmere Coat". Erhältlich ist die 2LP direkt beim Label, bei Bandcamp oder im Online-Shop von HHV Records.
Viel Spass beim reinhören!
Trackliste – Fear And Loathing In Beats
(https://radiojuicy.bandcamp.com/album/fear-and-loathing-in-beats-2)
Side A
1. Plusma – Falib 02:28
2. Figub Brazlevič & Sixcube – At The Speed of Life 02:57
3. Devaloop & Samura Loré – Scions 02:08
4. Kenny Keys – Sway 02:44
5. HASH & 2LATE – Acrobatics 02:39
6. Mr. Käfer – Down to Earth 02:33
7. Max I Million & E.Classic – Morrow 02:33
8. Edo Lee x Bluestaeb x Sofasound x A Sol Mechanic – Incense 01:56
Side B
9. j a r j a r j r – Bubby's Lament 02:23
10. Philanthrope x Monma x Misha x cocabona – Heatwave 01:41
11. FloFilz & Hubert Daviz – 3rd Avenue 02:27
12. leaf beach – Pathways 02:34
13. leavv & Psalm Trees – Prism 02:11
14. Mr Slipz – Joy Ride 01:56
15. knowmadic – Disconnect 01:49
16. BluntOne & csnts – Slipher 02:06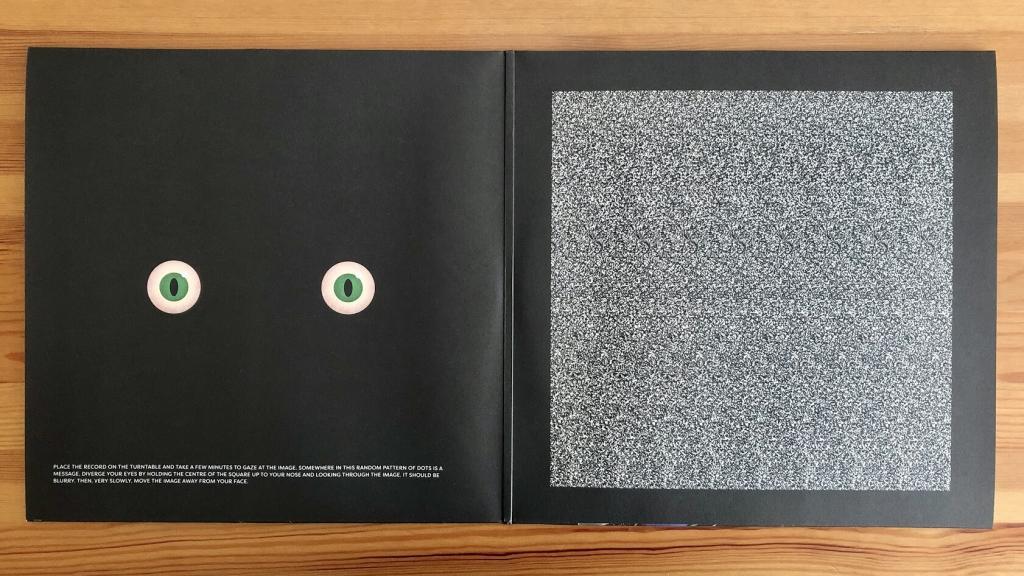 Side C
17. The Breed – Journey 02:25
18. Slom – Good Morning 03:14
19. Sofasound & Joe Sofia – Heartbox 02:26
20. Blue Wednesday & Juney Boy – Herringbone 02:23
21. invention_ – perplxd 02:16
22. autumn keys – The Past 02:12
23. slowya.roll – Catch Me 02:14
24. Toonorth – Void 02:36
Side D
25. B-Side – Alhambra 02:44
26. Tesk & Helmut – Stardust 02:19
27. o k h o & wun two – Notturna 01:59
28. Flitz&Suppe – Aiax 02:46
29. Joe Corfield & Philanthrope – Cashmere Coat 01:41
30. goosetaf – Windows Down 01:37
31. Coubo – Cloudscape 03:41
32. JUICEB0X – Lavender 02:54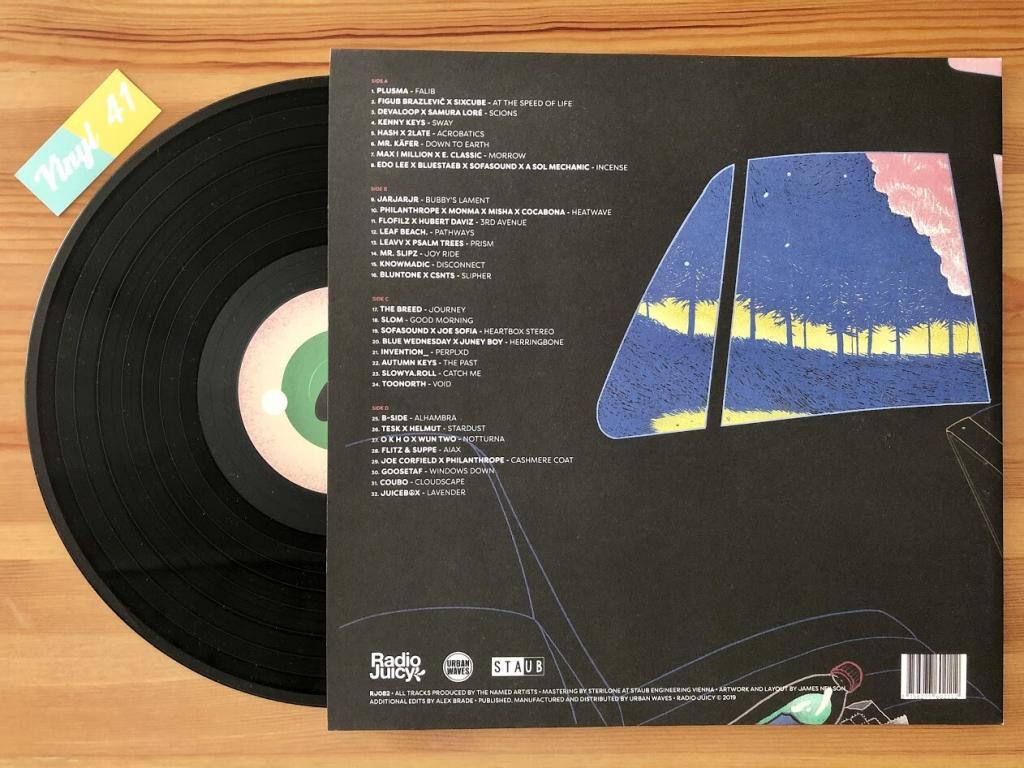 »Radio Juicy proudly presents Fear and Loathing in Beats, the 2019 edition, that marks a very special milestone as it's celebrating our 7 years anniversary! For this incredible occasion we had the pleasure of working with 50 artists to prepare this unbelievable project. When you compare our very first project the Fear and Loathing from 2012 to this one you'll see just how far we came and how much we've accomplished during this time. It has been such an incredible journey with over 80 releases and so many hours of absolutely incredible music …«
released May 13, 2019
All tracks produced by the named artists
Artwork and Layout by James Neilson
Additional edits by Alex Brade
Mastering by sterilOne at Staub Engineering Vienna
Published, manufactured and distributed by Urban Waves
Bonus: Fear And Loathing In Beats – Radio Juicy Tape #01
(https://radiojuicy.bandcamp.com/album/fear-and-loathing-in-beats)
1. Der Funkbademeister – Lifesaver Techniques 02:45
2. Knowsum – Blöderbeat 02:49
3. Lazy Jones – Zoot 03:03
4. Wun Two – nodini 01:52
5. Flitz & Suppe – GoldenDisk 02:49
6. SNK∆ – Purple Pills 01:46
7. Budd Hello – Viel zu kalt 03:43
8. !ngvar – Flashback 02:25
9. MC Eiht – Life I Chose (Je$u$ RMX) 03:08
10. Amin PaYnE – Let Down 02:18
11. MettphoniC – Protohype 02:53
12. Mono:Massive – Keep Relaxin 03:26
13. BlaZzCo – fearundso 02:30
14. FunkaHolic – Back to the Roots 04:22

15. Figub Brazlevič – Come Get Some 03:11
16. JA:KOVA – Munchies 01:51
17. Hazeem – Yantraflower 02:17
18. MecsTreem – Supreme Stromtrooper Edition 02:49
19. Lukitoloko – Force Sleep 02:00
20. BEN BADA BOOM – Pitch Blake 02:37
21. Melodiesinfonie – Atonalkonflikt 03:45
22. Toetensen – Mescal Springs 03:31
23. Peter Thermometer – Toys 03:00
24. MCV – F.A.L.S.E. 03:11
25. Phoube – Variation der Konstante 02:31
26. JimboMATSUMOTO – Space 01:53
27. Jay Lotus – End Of The Line 02:15
28. Ol' Dirty Bastard – I Can't Wait (Je$u$ RMX) 03:47
»The good folks at Radio Juicy (Heidelberg, Germany) brought us this unbelievable 80 minutes cassette tape compilation. The roster, mostly made of German producers, is absolutely delicious. Offering a contemporary view on independent beat-making, bringing Old School and modern spaced out hip hop vibes together. Fear And Loathing In Beats is an ode to that eerie feeling you have when high on music.«
released November 7, 2012
Radio Juicy Tape #01