Freddie Joachim – Beyond The Sea of Trees (Jakarta Records)
Aus dem sonnigen Kalifornien direkt ins Vinyl-41-HQ: "Freddie Joachim – Beyond The Sea of Trees". Das Album vom DJ, Produzenten und Label Director (Mellow Orange) Freddie Joachim ist über Jakarta Records (JAKARTA143) erschienen. Jeder 2LP liegt ein Download-Code für Bandcamp anbei.
Unter fleissiger Mithilfe von Natalie Oliveri (Vocals), Elijah Fox (Klavier) und dem Beatschmied FloFilz hat Freddie Joachim 16 – überwiegend instrumentale – Hip Hop Tracks produziert. Die chilligen Beats mit Samples aus Soul und Jazz, die zusätzlich mit hochwertigen Klavier- und Gitarrenklängen angereichert wurden, passen perfekt zur sommerlichen Jahreszeit. Entspanntes und exzellentes Album.
Meine Wertung
Meine Wertung: 9/10. Favoriten: "Serenade", "Backyards feat. Natalie Oliveri", "Beyond the Sea of Trees feat. FloFilz" und "Dying Light".
Käuflich erwerben kann man das Doppel-Vinyl direkt beim Künstler himself oder in den gewohnten Online-Kiosken von HHV Records, VinDig und Vinylism.
Viel Spass beim reinhören!
Trackliste – Beyond The Sea of Trees
(Stream / Download: https://music.freddiejoachim.com/album/beyond-the-sea-of-trees)
Side A
1. Rising 03:49
2. Serenade 03:49
3. Winding Road feat. Elijah Fox 04:15
4. River 02:33
Side B
5. Backyards feat. Natalie Oliveri 03:30
6. Yesterday 03:17
7. Runaway 03:20
8. Inher Space 04:56
Side C
9. Out There 03:44
10. Unlimited 02:30
11. Sun Dress 04:11
12. Dreamstate 03:16
Side D
13. Mulled Wine 03:33
14. Power & Profit 03:32
15. Beyond the Sea of Trees feat. FloFilz 04:40
16. Dying Light 04:34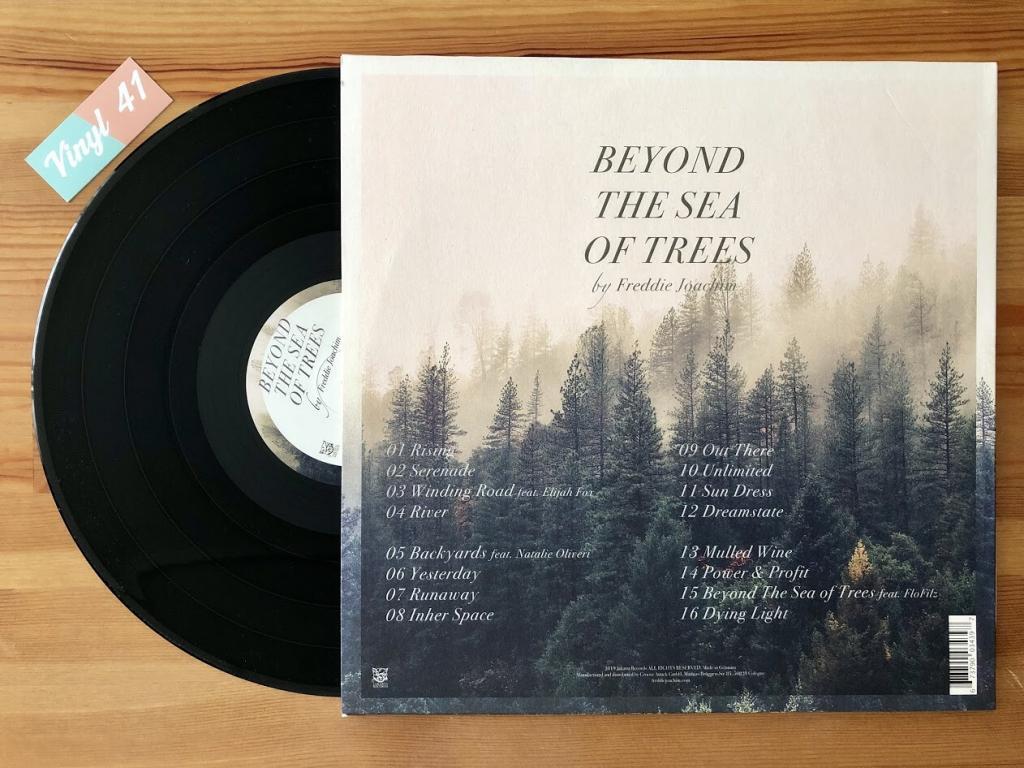 released May 24, 2019
»California-native producer Freddie Joachim has always been an avid listener and collector of music. Freddie Joachim began djing in the mid 90's, which progressed into recording and producing his own music. Since then, he has continued to produce music featuring such artists as, J.Cole, Joey Badass, Aloe Blacc, Blu, Grap Luva, LMNO, Kev Brown, and more. His music has been featured on major television networks and has been used by many popular brands, including DC Shoes, Nike, Adidas, Monster Energy, K-Swiss, HBO, and more […]«
Deine Wertung
Wie viele Sterne bekommt die Platte von Dir?
Danke!