Ol' Burger Beats – Out Of Sight, Out Of Mind (HHV724)
Ol' Burger Beats – Out Of Sight, Out Of Mind ist nach Unreleased Instrumentals erst mein 2. Vinyl vom Beatschmied aus Oslo. Die High Rhodes LP konnte ich leider immer noch nicht zu einem vernünftigen Preis ergattern und die Mind Games Instrumentals sind noch nicht erschienen. Aber das sind andere Geschichten. Das Vinyl Out Of Sight, Out Of Mind ist über das Berliner Label HHV erschienen. Die Platte ist auf 250 nummerierte Exemplare limitiert. Ein paar davon könnt Ihr noch im Online-Shop von HHV käuflich erwerben.
Trackliste – Out Of Sight, Out Of Mind
(Direktlink: mutualintentions.bandcamp.com/album/out-of-sight-out-of-mind)
Side A
1. Intro 1:15
2. Set It 2:10
3. Khaled 2:01
4. Spirits 0:53
5. Alone 1:44
6. Seaside 1:58
7. Dad 2:31
8. Søyr 3:14
9. It's Black Remix 2:09
10. R.I.P. Parlan 1:57
Side B
11. Moon Is Out Remix 2:32
12. Love Theme 1:26
13. Mind Over Matter 1:27
14. Skip That 1:54
15. Alike 1:58
16. Voila Soul 3:13
17. Keep It Rio 1:41
18. Mind Games Remix 2:48
19. Swim 0:51
20. Make Due Remix 1:59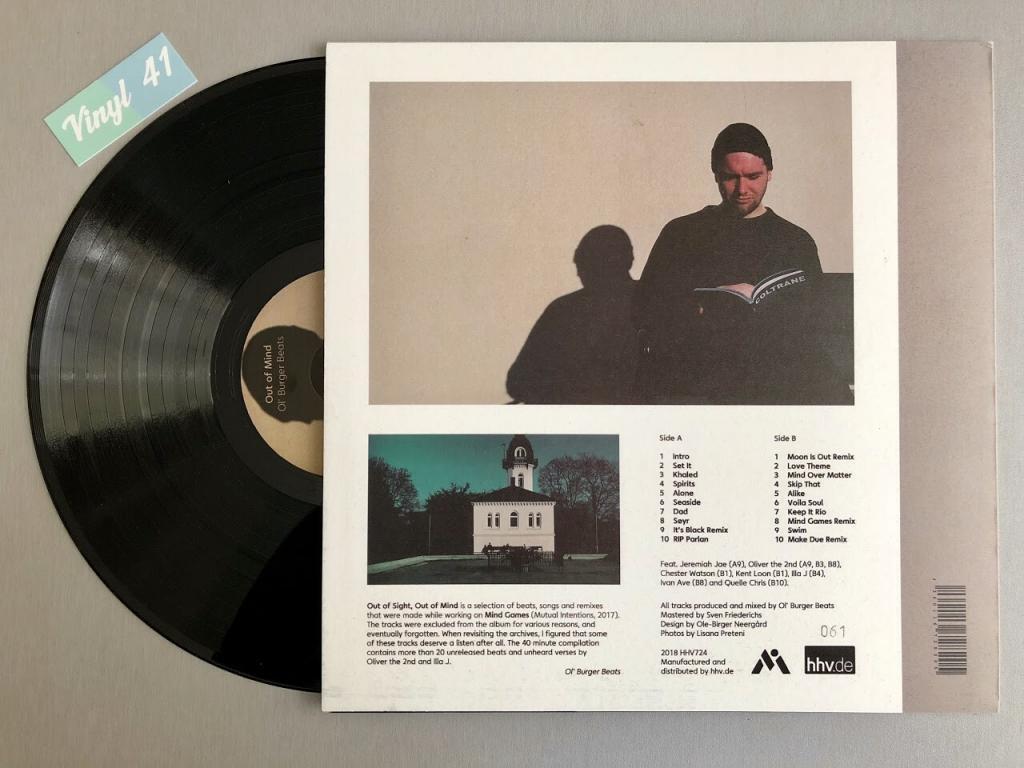 »"Out Of Sight, Out Of Mind" is a selection of beats, songs and remixes that were made while working on "Mind Games" (Mutual Intentions, 2017). The tracks were excluded from the album for various reasons, and eventually forgotten. When revisiting the archives, Ole figured that some of these tracks deserve a listen after all. The 40 minute compilations contains 20 unreleased beats and unheard verses by Oliver The 2nd and Illa J plus remixes featuring Jeremiah Jae, Chester Watson, Kent Loon, Ivan Ave and Quelle Chris.«
released June 8, 2018
All tracks produced and mixed by Ol' Burger Beats
Mastered by Sven Friedrichs
Design by Ole-Birger Neergård
Photos by Lisana Pretini
Manufactured and distributed by hhv.de
Wertung
Meine Wertung: 9/10 für Ol' Burger Beats – Out Of Sight, Out Of Mind. Auf dem Vinyl sind 20 Tracks zu finden, die bei der Produktion der Mind Games LP aussortiert wurden. Hört sich irgendwie nach Resteverwertung an, ist es aber auf keinsten. Meiner bescheidenen Meinung nach hat der norwegische Beat Smith die falschen Tracks weggelassen. ;-) Out Of Sight, Out Of Mind gefällt mir richtig gut. Sogar die – zum Glück raren und sehr chilligen – Raptracks sind nicht die schlechtesten, passen ganz gut zum Rest. Das ganze Album klingt eher wie ein total entspanntes und knisterndes Lo-Fi Mixtape. Aber genau das macht wahrscheinlich den besonderen Charme der Platte aus.
Favoriten: Set It, Søyr und Keep It Rio