Kiefer – Superbloom (+ Bridges)
Das Vinyl Kiefer – Superbloom ist im September 2019 über das Label Stones Throw Records (STH2415) erschienen. Die Superbloom LP besteht aus zwei EPs: die namensgebende Superbloom und Bridges. Das Mastering stammt von Matthewdavid aka Matthew McQueen (Leaving Records).
Für den Nachfolger von Happysad hat der Jazz Pianist und Keyboardist Kiefer Shackelford insgesamt 13 instrumentale Tunes produziert. Die jazzigen Beats sind gewohnt sehr abwechslungsreich, experimentell und klavierlastig. Sie ragen mit der Menge an händisch eingespielten Synthieklängen aus der breiten Masse der Beatmaker (no offense!) deutlich heraus und sind eher Jazz als Hip Hop. Gefällt trotzdem sehr ;-)
Meine Wertung: 9/10. Favoriten: "10,000 Days", "Be Encouraged" und "Sunny". Erhältlich ist die Platte bei den gängigen Vinyl-Dealern HHV Records, VinDig oder JPC.
Viel Spass beim reinhören!
Trackliste – Superbloom
(Download / Stream: kiefer.bandcamp.com/superbloom)
Side A – Superbloom EP
1. Golden 03:10
2. Frozen 03:50
3. May 20 02:34
4. 10,000 Days 03:54
5. Good Looking 03:18
6. Be Encouraged 03:41
7. And Encourage Others 02:53
»Kiefer considers Bridges and Superbloom to be a single cohesive project, with his new songs building upon Bridges' sound. Bridges saw him expand his musical palette beyond the piano, working with a number of analogue synths. On Superbloom he takes that a step further, with songs that he describes as "brighter, more imaginative, and vibrant" — much like the natural phenomenon that gives the record its name. He describes Superbloom as a "very active" work: "The first five tracks are invigorating, while the final two tracks act as a grand exhale following all that energy."«
released September 20, 2019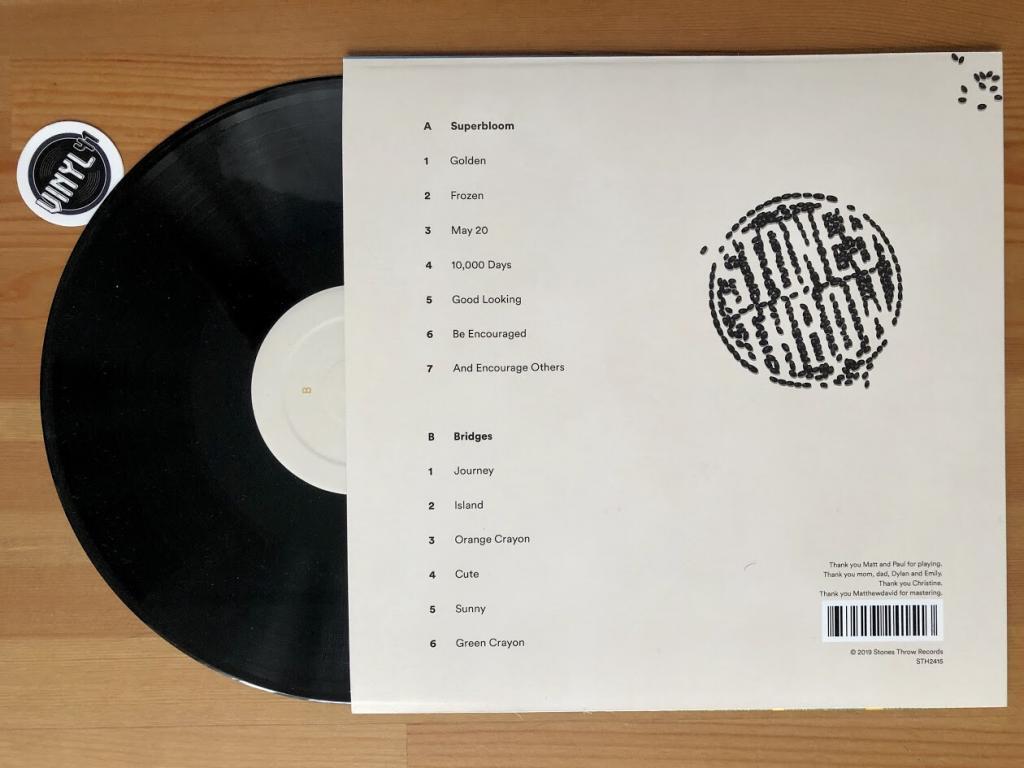 (Stream / Download: kiefer.bandcamp.com/bridges)
Side B – Bridges EP
1. Journey 01:49
2. Island 03:16
3. Orange Crayon 03:10
4. Cute 02:32
5. Sunny 03:08
6. Green Crayon 03:38
»While Bridges remains true to his jazz and hip-hop roots, the release between full-lengths was an opportunity to take his sound in new directions. "My dad always told me any time you work on something, make it better than last time," he says, "I want to approach things in a new and updated way."«
released April 5, 2019
Deine Wertung
Wie viele Sterne bekommt die Platte von Dir?
Danke!