Joe Corfield – Patterns (Radio Juicy / Urban Waves)
Über das Label-Duo Radio Juicy und Urban Waves ist das Album Joe Corfield – Patterns (RJ070) erschienen. Lediglich 100 200 Kopien wurden hergestellt. "Note that the vinyl was manufactured in an indie, small & limited edition as we want to keep the album rare and interesting for collectors this will be available in strictly limited quantity." Ihr könnt Euch eines der raren Exemplare direkt bei Bandcamp oder über den Online-Shop von HHV bestellen.
Trackliste – Joe Corfield – Patterns
(radiojuicy.bandcamp.com/album/patterns)
Side A
1. Solero 02:31
2. Odd Ratio 02:32
3. In The Fish Bowl 02:02
4. Albatross 01:27
5. Channels 01:47
6. Gypsy Fire 01:47
7. Caged Alien 01:47
8. Sounds Of The Universe 02:22
Side B
9. 6am 02:03
10. Waiting (Jaded) 00:56
11. When I'm With U 02:39
12. Impulse + Skyline 02:03
13. Porto Novo 01:31
14. Electric Forest 02:01
15. Caged Alien (alternative) 01:19
16. Another Wave 02:08
17. Lights 00:41
18. No Trains Home 01:47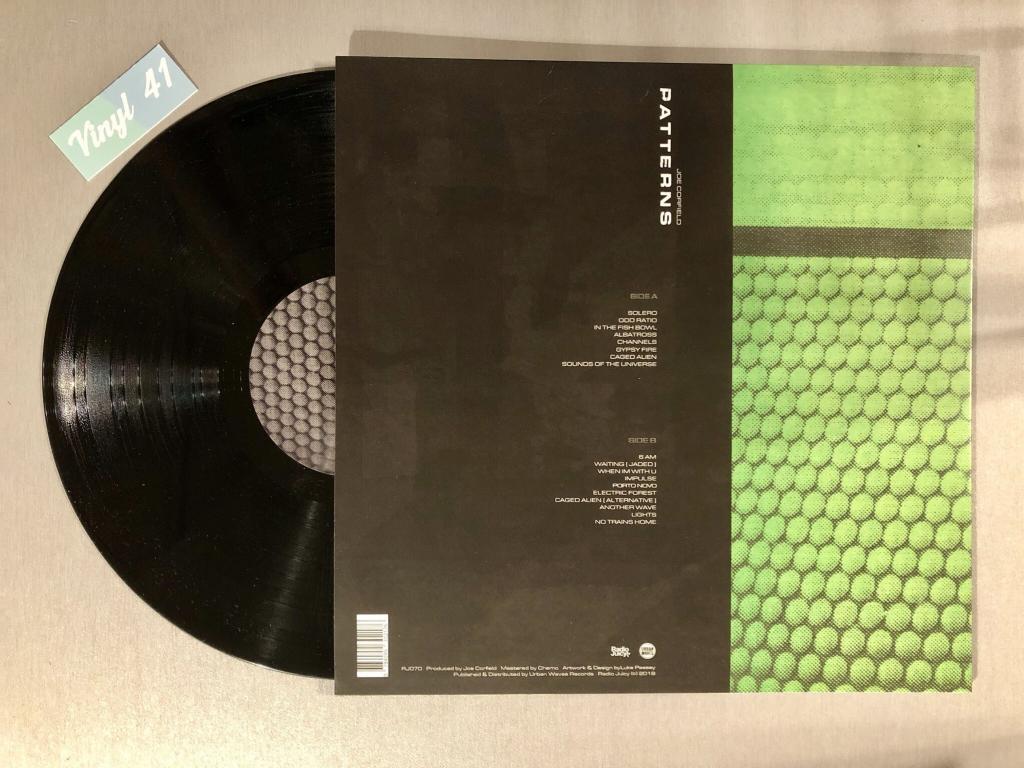 »Joe Corfield, one of UK's finest Instrumental Hip Hop producer is back once again bringing you his newest full length album "Patterns" at Radio Juicy! As usual with Joe's music, you can expect a classy ride that is technically flawless and right on point with the vibe. Connoisseurs will find a very polished and satisfying experience as well as everyday listeners that will happily enjoy this very smooth experience. This is the kind of album that brings us all together. Just relax and let Joe Corfield take you along.«
All Tracks produced by Joe Corfield
Mastered by Chemo
Artwork & Design by Luke Passey
Published, manufactured and distributed by Urban Waves Records
Radio Juicy © 2018
released September 10, 2018
Wertung
Meine Wertung: 9/10 für Joe Corfield – Patterns. Der vinyle Nachfolger von Phase Shift ist mit 18 Instrumental Hip Hop Tracks prall gefüllt. Insgesamt hat der UK Beatschmied sogar 21 Titel für das Album produziert. Die drei "fehlenden" Stücke könnt ihr digital nachholen. Aber das nur am Rande. Das Vinyl Patterns besticht mit einem warmen Sound, gefühlvollen Beats und jazzig knisternden Samples. Downtempo vom Feinsten. Drehen sie die Boxen (etwas) auf, lehnen sie sich zurück und geniessen sie die entspannten Klänge von Joe Corfield. Exzellentes Album.
Favoriten: Odd Ratio, Gypsy Fire, When I'm With U und Electric Forest