Jazzvolution Chapter Two (The Find Mag / HHV)
Etwas mehr als 5 Jahre nach Chapter One ist endlich der zweite Teil erschienen: "Jazzvolution Chapter Two". Gut Ding will Weile haben … oder so. Die Compilation ist wieder über das Duo The Find Mag und HHV Records (HHV782) erschienen. Es wurden lediglich 300 Kopien in Vinyl gepresst. Erhältlich ist das gute Stück exklusiv bei HHV.
Trackliste – Jazzvolution Chapter Two
(open.spotify.com/album/4PCxIVNBXVq1k6IqqbOvQJ)
Side A
1. Amerigo Gazaway – Building Blocks 03:21
2. L'Orange – The Talkative Mailman Can't Read 02:27
3. Surreal – James And The Giant Stereo 03:07
4. Shin-Ski – Nova 04:44
5. Propo'88 – Because I'm Buggin' 02:45
6. Bobby Obsy – Beat Noir 02:46
Side B
7. LTF – Kalypso 03:34
8. Tensei – Good Try 03:18
9. Cosmic Analog Ensemble – In Beer Ads Glasses Are Always Full 02:42
10. Medline – Eclipse 04:01
11. Mindswimmer – Water Is Clear, pt. 1 05:38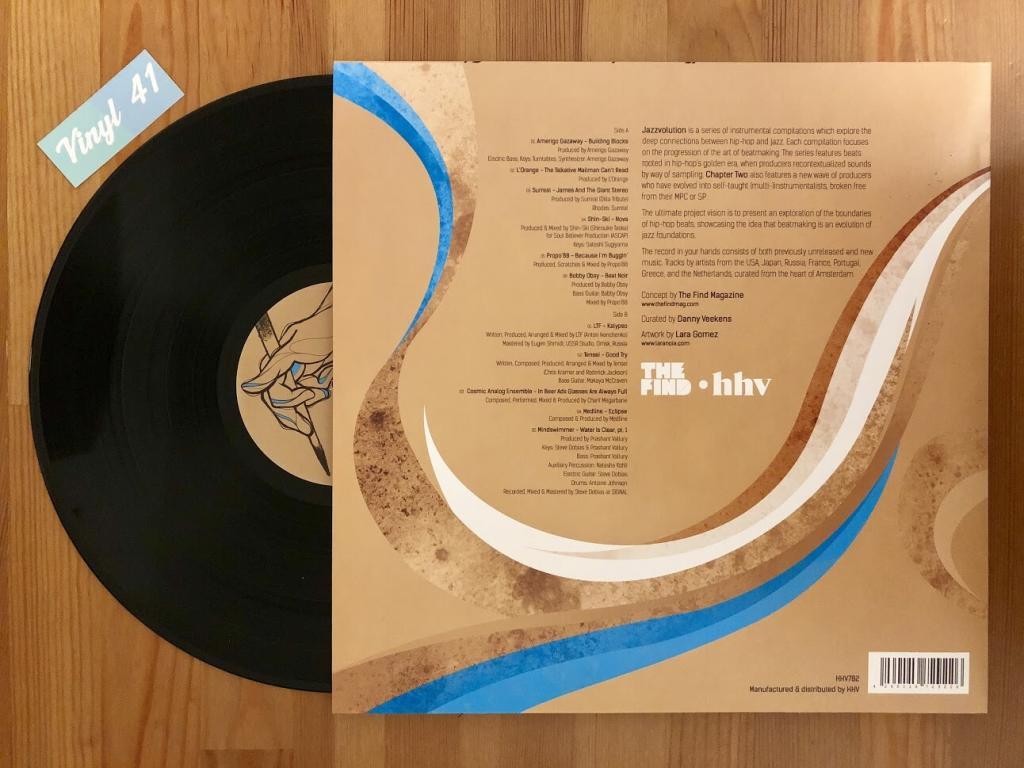 »We are very pleased to present you the vinyl edition of "Jazzvolution Chapter Two" in a limited edition of 300 copies in collaboration with the nice people at The Find. "Jazzvolution" is a progressive instrumental compilation series exploring the connection between Jazz & Hip Hop. This time the compilation features a well selected cast of talents like L'Orange, Propo'88, Medline, Cosmic Analog Ensemble, Surreal, Shin-Ski and others on the boards […]«
Concept by: The Find Magazine
Artwork: Lara Gomez
released January 18, 2019
Wertung
Meine Wertung: 8/10 für Jazzvolution Chapter Two. Die Compilation bietet, wie auch schon der erste Teil, eine exzellente Mischung aus Jazz und Hip Hop. 11 Instrumentals von 11 verschiedenen Beatschmieden haben auf der Platte Platz gefunden. Amerigo Gazaway , L'Orange, Cosmic Analog Ensemble, Shin-Ski, Medline, Propo'88, Surreal, Tensei, Bobby Obsy, LTF und Mindswimmer haben einen wirklich guten Job gemacht. Entspannte Hip Hop Beats, jazzige Samples und die unterschiedlichen Stile der verschiedenen Produzenten machen auch den zweiten Teil der Jazzvolution wieder zu einer Fundgrube instrumentaler Klänge.
Favoriten: James And The Giant Stereo und In Beer Ads Glasses Are Always Full