Hi​-​Hat Club Vol. 1 – Testiculo Y Uno (Melting Pot Music)
Mit "Hi​-​Hat Club Vol. 1 – Testiculo Y Uno" startete damals™ im Jahr 2009 eine neue Instrumental-Serie vom Label Melting Pot Music. 10 Jahre später ist die Platte endlich auch im Vinyl-41-HQ aufgeschlagen. Von der Erstpressung (MPM077) wurden 500 Kopien angefertigt. "The first press is limited to 500 copies and got a note on the back that it's 1 out of 500 copies. Second comes without this note but is otherwise completely identical." Zweitere Version läuft jetzt auf dem lokalen Plattendreher.
Testiculo Y Uno – wahrscheinlich besser bekannt als Hulk Hodn und Twit One – befeuern das Debüt der MPM producer series. Die A-Seite des Vinyl ist bestens gefüllt mit fetten Beats von Twit One. Die zweite Seite wurde mit exzellenten Tracks von Hulk Hodn bespielt. Das Köllner Duo hat für "Hi​-​Hat Club Vol. 1" insgesamt 19 Tracks mit großartigen Instrumentals produziert. Die Platte ist voll mit prächtigen Beats und verstaubten Samples aus Jazz und Soul. Schönes Ding! Meine Wertung: 9/10. Favoriten: "Mariquita", "Windyridge" und "Later".
Erhältlich ist der Klassiker der instrumentalen Hip-Hop-Kunst in den Online-Shops von HHV, VinDig und MPM. Viel Spass beim reinhören!
Trackliste – Testiculo Y Uno
(https://hi-hatclub.bandcamp.com/album/hi-hat-club-vol-1-testiculo-y-uno)
Side A – Twit One
1. One for Bandini 01:38
2. Ahab vs. Tarantula 02:05
3. Mariquita 01:22
4. Dirty Face 02:42
5. 3rd 01:38
6. Windyridge 02:18
7. Diploma 02:20
8. Stereostalker 00:54
Side B – Hulk Hodn
9. Autumn 02:33
10. Deetermeter 01:03
11. Essicati 01:26
12. Rawissue 01:58
13. Donstartnoshiat 00:32
14. Later 02:18
15. Orto Mio 01:14
16. Stinkendeleiche 00:56
17. Wedoeveryday 01:31
18. Sandig 01:45
19. Temptation 02:37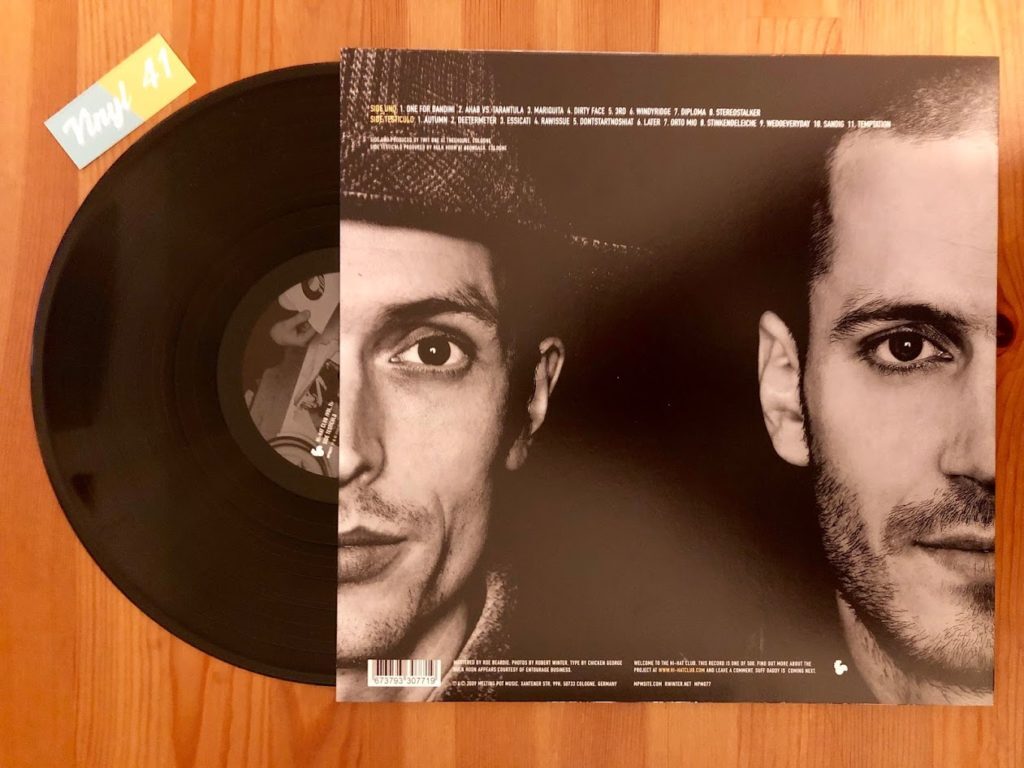 »Welcome to the Hi-Hat Club where beats live and look good. The new MPM producer series kick starts with Testiculo Y Uno better known as Hulk Hodn (Huss & Hodn) and Twit One (Fleur Earth Experiment) from Cologne. Both like their beats dusty and soulful with lots of crazy ish happening in between. Their DJ sets with two turntables, a stack of vinyl and a MPC are legendary. Twit and Hodn are right in the center of Cologne's breeding hip-hop scene, working with everybody from Fleur Earth and the Retrogott to Miles Bonny, Frank Nirtty and Planet Asia. About the Hi-Hat Club: MPM have teamed up with photographer Robert Winter to take a look behind the beat, into the bedrooms and makeshift studios of today's beat generation.«
released May 15, 2009
Artist: Hulk Hodn & Twit One
Album: Testiculo Y Uno
Cat No: MPM 081
Melting Pot Music
Bonus: Hi-Hat Club Vol 1-7 (Mix by SKOR72 / VARY)
1. Hulk Hodn – Autumn (Vol. 1 – Testiculo Y Uno)
2. Dexter – One For Yusef (Vol.3 – The Jazz Files)
3. Suff Daddy – Now That You're Mine (Vol.2 – Suff Draft)
4. Fid Mella – Ha Ha Ha Ha (Vol.4 – Chop Shop)
5. FS Green – Pick A Star (Vol.5 – Eggs And Pancakes)
6. DJ Adlib feat. Planet Asia – Streets (Dexter Remix) (Vol.6 – Tofu & Alter EP)
7. Brenk Sinatra – Don't Beat Your Wife Every Night (Vol.4 – Chop Shop)
8. Dexter – Sounds Great Les (Vol.3 – The Jazz Files)
9. Suff Daddy – One For Rawls (Vol.2 – Suff Draft)
10. Fid Mella – At The Chop Shop (Vol.4 – Chop Shop)
11. Twit One – Windyridge (Vol.1 – Testiculo Y Uno)
12. Twit One – Mariquita (Vol.1 – Testiculo Y Uno)
13. Knowsum – Illusion (Vol.7 – Hyasynthus)
14. Full Crate – Never Never (Vol.5 – Eggs And Pancakes)
15. Knowsum – Home feat. Jean-Foucaud Rouxbelle (Vol.7 – Hyasynthus)
»All vinyl mix by SKOR72 (VARY) to celebrate the "Hi-Hat Club Collector´s Box Set"(7xLP + Sticker + Box). Out on Melting Pot Music Nov 27, 2015.«