Figùra – Place to Be (InchPerSecond Records)
Das Album "Figùra – Place to Be" ist im Juni 2018 digital und als Kassette erschienen. Im darauffolgenden Juli hat das Label InchPerSecond Records (Tel Aviv Yafo, Israel) eine Crowdfunding-Kampagne bei QRATES angestossen. 200 Kopien wurden bis September 2018 finanziert, in transparentes Polyvinylchlorid gepresst und auf die Plattenteller der Welt verteilt.
Die italienische Beat-Combo hat für "Place to Be" 11 Tracks produziert. Sie wurden dabei freundlich von Melodiesinfonie, Concerto, DJ Daf.Tee und einigen mehr unterstützt. Die sehr chilligen Beats wechseln, je nach Gastauftritt, zwischen Jazz, Hip-Hop und Nu-Soul hin und her. Obendrauf gibt es noch ein bisschen was mit Stimme aus Soul und Rap. Sehr abwechslungsreiches Album, bei dem mir persönlich ein wenig der berühmte rote Faden fehlt. Meine Wertung: 7/10. Favoriten: "Brainstorm feat. Melodiesinfonie" und "So Excited".
Erhältlich ist das Schmuckstück in Clear Vinyl direkt auf der Bandcamp-Seite des Labels. In den Online-Shops von HHV und VinDig findet ihr die Platte auch, sogar etwas preiswerter. Viel Spass beim reinhören!
Trackliste – Place to Be
(https://inchpersecond.bandcamp.com/album/place-to-be-2)
Side A
1. Solo 01:50
2. Let Me Be Free feat. Throwback 02:58
3. Brainstorm feat. Melodiesinfonie 01:34
4. It Ain't Working feat. Maro 01:36
5. So Excited 01:55
Side B
6. Place to Be 03:01
7. Good Girl feat. Concerto 02:49
8. Say feat. Ainè 02:11
9. WLFS 01:51
10. Jazz Love feat. Yancey Boys, Botni Applebum, DJ Daf.Tee 03:42
11. Coconuts feat. Shona 02:53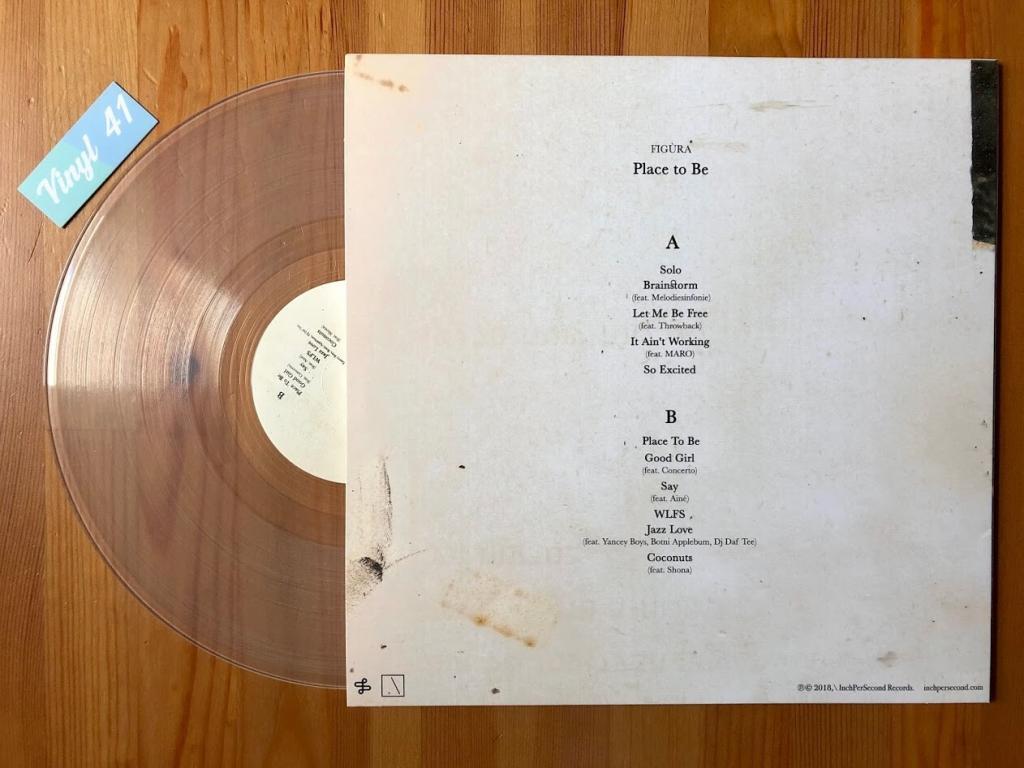 »This is a very special project for us, and definitely for Figùra that put their heart and soul into it, and luckily the results are pure gold. "Place to Be" is nothing less but a modern gem bursting out of Italy's fruitful neo-soul scene. The real magic happens when Alsogood's juicy beats meet Alessandro's enchanting jazzy melodies, and all ride together on top of Emanuelle's creamy R&B basslines.. Put on top of that all the brilliant features – Yancey Boys (Delicious Vinyl), Melodiesinfonie (Soulection), Maro, Ainé (Universal) and many many more, each adds their own colour to the plate. Listening to this beautiful collection of vibes and emotions, with every jazzy hook hitting just the right spot we knew that there's no other way than to put this music on vinyl.«
released June 1, 2018
Figùra are:
Francesco Lo Giudice
Emanuele Trigilia
Alessandro Pollio
Produced by Figùra
Artwork by Zohar Doron
Mixed by Or Weisinger
Mastered by Yoad Nevo