Simiah & The Phantom Ensemble – Connections
Mit "Simiah & The Phantom Ensemble – Connections" haben Simiah, Dan Somers und Craig Crofton ihr Band-Debüt abgeliefert. Das Vinyl der Jungs aus Bristol ist über das Label KingUnderground Records (KU-049) erschienen. 200 Kopien sind in schwarzes Gold gepresst worden. Zusätzlich haben es 100 Exemplare auf rotes Polyvinylchlorid geschafft. Simiah und das Phantom Ensemble haben für die EP 10 Tracks produziert. Die Instrumental Platte ist mehr Jazz als Hip Hop. Drums und Samples von der MPC sowie live eingespielte Instrumente machen hier den grossen Unterschied. Entstanden ist ein sehr bedächtiges – vielleicht etwas zu kurz geratenes – Werk mit garantierter Jazzkeller-Atmosphäre. Meine Wertung: 8/10. Favoriten: Grit und Dragon Master.
Auf der Bandcamp-Seite vom Phantom Ensemble oder direkt beim Label sind noch ein paar Platten der Black Edition verfügbar. Aber auch in den Online-Auslagen von deejay.de (schwarz) und HHV Records (rot) wurden eine Hand voll Kopien gesichtet.
Trackliste – Connections
(phantomensemble.bandcamp.com/album/connections)
Side A
1. Intro 01:43
2. Earth Tone 05:36
3. Movement Skit 00:35
4. Grit 02:53
5. Skit 00:45
Side B
6. Coda 00:48
7. Flowing 03:28
8. Spaces 00:58
9. Dragon Master 04:32
10. Jazzed Outro 01:57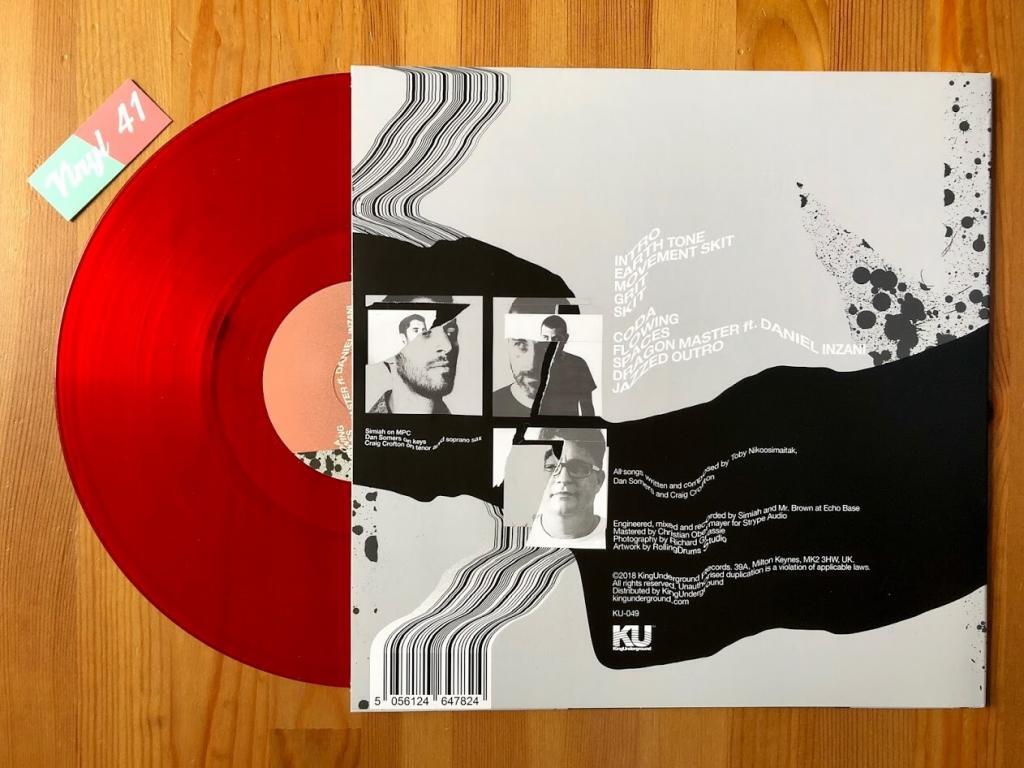 »Bristol, based band: Simiah on MPC, Dan Somers on keys & Craig Crofton on tenor & soprano sax. Our debut album "Connections" is out Feb 15th on KingUnderground Records and we are offering up an exclusive red vinyl version (100 copies) and the rest on black. The album is a collection of jazz inspired, hip hop instrumentals with MPC drums and live instrumentation. Simiah is well known for his live double MPC show cases and has performed alongside other live musicians so this new project is like a studio album of what he does naturally on stage. The unique sound has been developed through a monthly residency at Bristol's Gallimaufry bar where the band has improvised new material and fine tuned ongoing compositions while welcoming special guests from the local jazz scene to sit in.«
released February 15, 2019
Simiah on MPC
Craig Crofton on tenor & soprano sax
Dan Somers on keys
Engineered, mixed & recorded by Simiah & Mr Brown at Echo Base
Mastered by Christian Obermayer for Strype Audio
Photography by Richard Grassie
Design by Rolling Drums Studio