Psalm Trees x Moose Dawa – Dreams From The Shore (Radio Juicy)
Psalm Trees und Moose Dawa, die schon bei Birds of a Feather: Volume 1 an einem Song gearbeitet haben, sind jetzt mit einem gemeinsamen Album am Start. Das Vinyl nennt sich "Psalm Trees x Moose Dawa – Dreams From The Shore" und ist im Juni 2019 über das Label Radio Juicy (RJ084) erschienen. Veröffentlichung und Vertrieb wurden von Urban Waves übernommen. Die Platte ist auf schmale 200 Kopien limitiert. Artwork und Design stammen von Andreas Pedersen. Für das vinyle Mastering ist Pawcut (WTM) verantwortlich.
Die beiden Beatschmiede haben für "Dreams From The Shore" satte 20 Tracks gebastelt. Produziert wurde zwischen Brighton, Malmö und Rotterdam. Entspannte Beats mit jazzigen Samples sind das exzellente Ergebnis der Kollaboration von Psalm Trees und Moose Dawa. Das passt wie Ass auf Eimer! Chillige Summer Vibes vom feinsten. Meine Wertung: 9/10. Favoriten: "No Lies", "Drupe" und "Lonely".
Erhältlich ist die Platte direkt beim Label, bei Bandcamp oder im Online-Shop von HHV Records. Viel Spass beim reinhören!
Trackliste – Dreams From The Shore
(Download / Stream: https://radiojuicy.bandcamp.com/album/dreams-from-the-shore)
Side A
1. Igw 2 Cph 00:38
2. No Lies (feat. Andras Szilagyi) 02:08
3. Blauw 01:46
4. Chill 01:57
5. Should I Go… 02:30
6. Callin. 02:08
7. Tenderly 01:59
8. Drupe 02:03
9. Lovinyou (feat. Max Wheeler) 01:58
10. She Left While I Slept 01:32
Side B
11. Cph 2 Ams 00:41
12. Someone 02:25
13. Release 02:24
14. Softa 01:44
15. I Know U Can 02:38
16. As I Dream on the Shore 01:38
17. Play This When She Breaks Up With You 01:55
18. Lonely 01:50
19. Changethis. 01:53
20. Everynight 02:21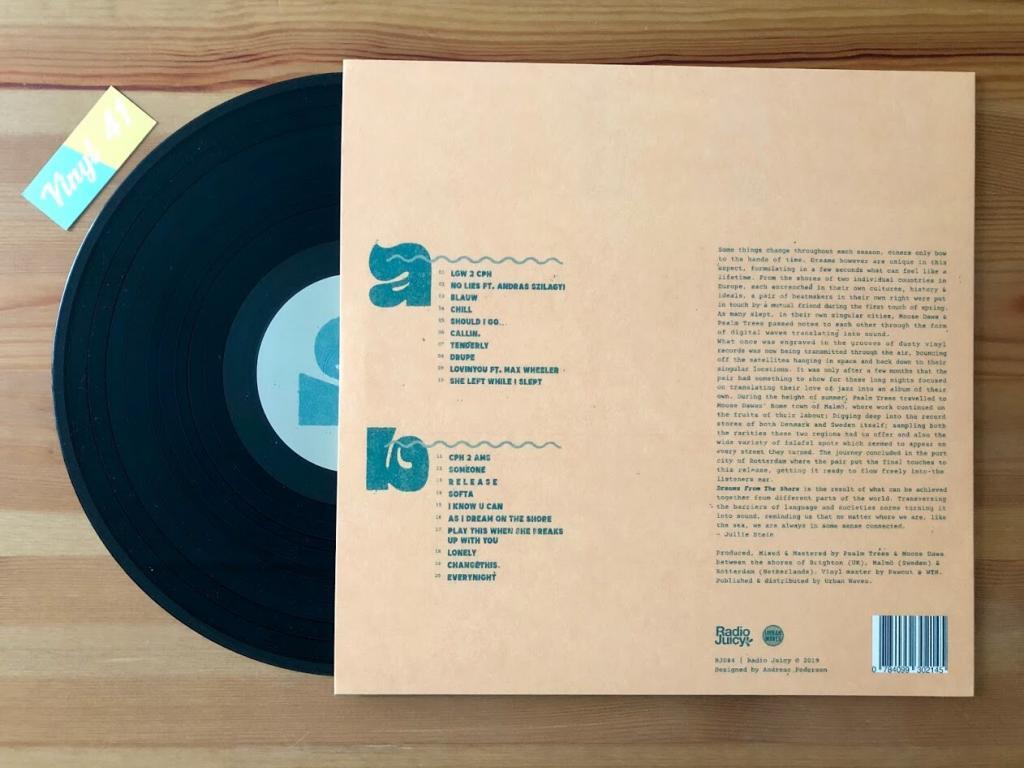 »Radio Juicy proudly presents "Dreams From The Shore" the new collaborative album of two amazing rising producers Psalm Trees and Moose Dawa. Just by looking at the cover you can already feel the Summer vibes and the music will hit you like a fresh coastal breeze on the face. Close your eyes and hear the beautiful sound of the waves on the shore, the seagulls singing in the sky, and kids playing on the beach. Like a vivid dream, you can already smell the salty air. While you are packing, we got you covered with the perfect soundtrack. This Summer is gonna be wonderful and we made sure we brought you the music to chill to during this period!«
Produced, Mixed & Mastered by Psalm Trees & Moose Dawa
Vinylmaster by Pawcut @ WTM
Artwork & design by Andreas Pedersen
Layout by Alex Brade
Published & distributed by Urban Waves
released June 10, 2019
Deine Wertung
Wie viele Sterne bekommen die Platten von Dir?
Danke!