Crown Jewels Vol. 1 (Big Crown Records)
Mit "Crown Jewels Vol. 1" (BC100LP) werden nicht die Kronjuwelen verscherbelt, sondern stolz präsentiert. Big Crown Records präsentiert die erste Label Compilation mit einigen (mir) bekannten und unbekannten Künstlern. Zwölf Tracks haben auf dem wunderbar souligen »Fools Gold Colored Vinyl« Platz gefunden. Label Co-Boss Leon Michels ist natürlich mit El Michels Affair auch an Bord. Neben ihm und seiner Kappelle ist ein großartiger Querschnitt der 2016 gegründeten Record Company zu entdecken und zu bewundern. Exzellente Zusammenstellung, die mich schon jetzt nach Vol. 2 lechzen lässt.
Meine Wertung: 9/10. Favoriten: "Lee Fields & The Expressions – It Rains Love", "Lady Wray – Guilty" und "Brainstory – Dead End". Die Platte ist direkt bei Big Crown, bei Bandcamp sowie in den hiesigen Online-Shops von HHV Records und JPC erhältlich.
Viel Spass beim reinhören!
Trackliste – Crown Jewels Vol. 1
(Stream / Download / Buy: bigcrownrecords.bandcamp.com/crown-jewels-vol-1)
Side A
1. Lee Fields & The Expressions – It Rains Love 03:55
2. Bacao Rhythm & Steel Band – PIMP 03:14
3. Lady Wray – Guilty 03:34
4. The Shacks – This Strange Effect 03:21
5. Thee Lakesiders – Parachute 02:59
6. Paul & The Tall Trees – Once In A While 03:32
Side B
7. El Michels Affair – Tearz feat Lee Fields and The Shacks 02:31
8. Bobby Oroza – This Love 06:32
9. Brainstory – Dead End 03:43
10. 79.5 – Terrorize MY Heart (Disco Dub) 03:47
11. Lee Fields & The Expressions – Never Be Another You 04:25
12. Holy Hive – Oh I Miss Her So feat. Mary Lattimore 04:10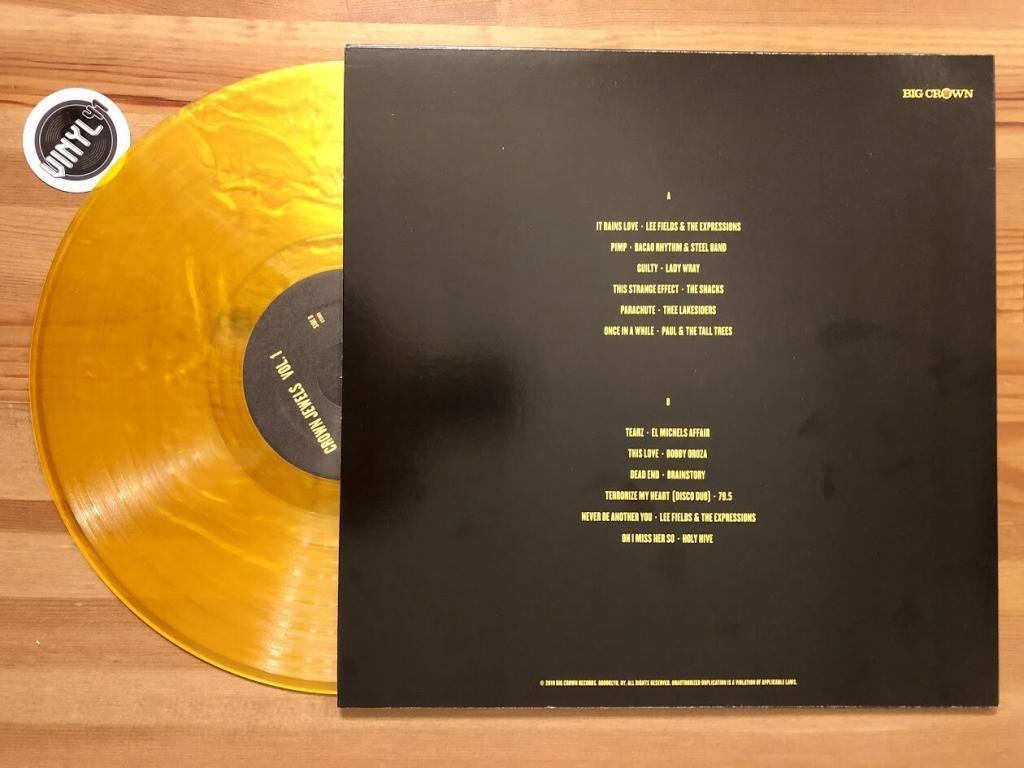 »Big Crown is proud to present our first compilation on the label, Crown Jewels Vol. 1. This is something of a highlight reel for what we have released in the three years that we've been around. Some of our artists are world famous at this point while some of them are still under the radar. It's been extremely satisfying for us when the fans of one Big Crown artist discover another one because they are label mates …«
released December 6, 2019
Deine Wertung
Wie viele Sterne bekommt die Platte von Dir?
Danke!
(Upgedatet: "vinyl 41 – favourite beats 2020": open.spotify.com/3VoGg6fxnkEHLs5fEWujC7)