Blame One – The 34th Scroll Deluxe Edition (HHV)
Der Underground MC Blame One und der Beat Smith Veks haben sich zusammengetan und gemeinsam das Album "Blame One – The 34th Scroll" produziert. Erschienen ist das Album über das Label Duo Missing Children Records / HHV Records (HHV787) als 2LP mit allen Instrumentals. 300 Kopien wurden gepresst. Erhältlich ist das Doppel-Vinyl im Online-Shop von HHV.
Trackliste – The 34th Scroll
(open.spotify.com/album/5j8SNjZ8gLlRW2sfqVFbLE)
Side A
1. Just What I'm Feeling
2. Be Healthy 2 (Ode to Dead Prez)
3. Path Of Kings
4. Frequency Feat. Blu & One.Be.Lo.
Side B
5. Deception
6. Frontin' Foes (Cut by Exile)
7. Twelve & Fourteen
8. Assumptions Feat. Flashius & Veks
C und D
Instrumentals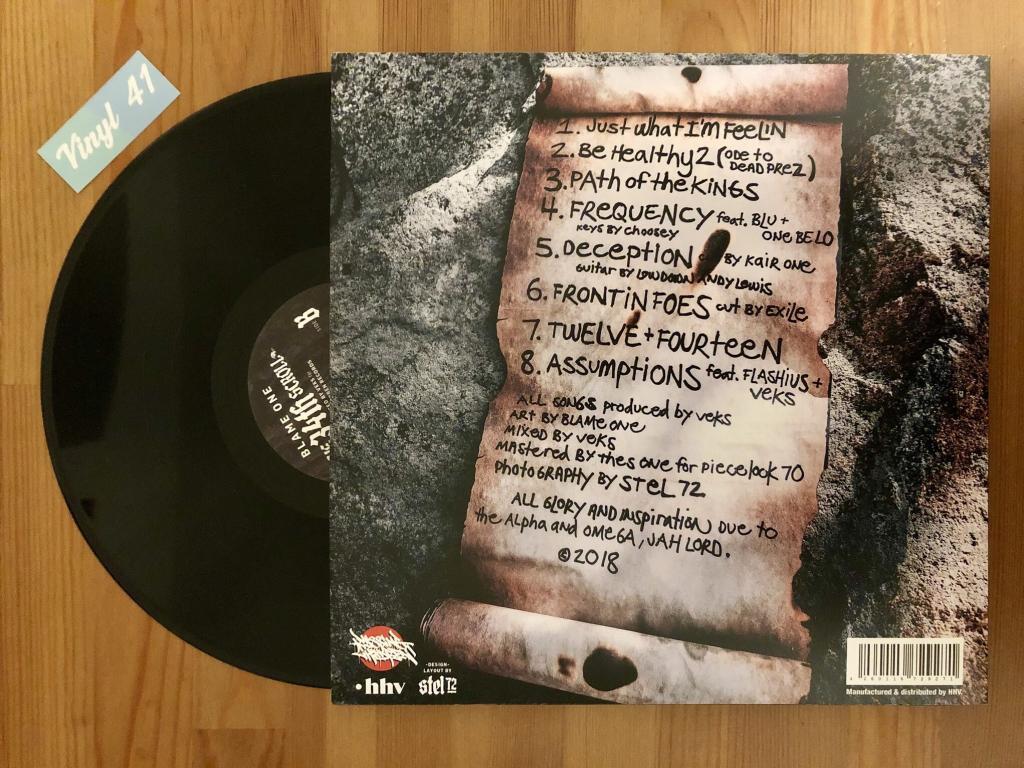 »The 34th Scroll is entirely produced by Veks (of "Last Jazz Club" fame) and mastered by almighty Thes One of People Under The Stairs. Guests on the album are Blu, One.Be.Lo., Exile and Flashius […]«
Wertung
Meine Wertung: 8/10 für "Blame One – The 34th Scroll". Veks hat für das Album acht solide Hip Hop Beats mit knisternden Jazz-Samples gebastelt, auf die Blame One und seine Kollegen Blu, One.Be.Lo, Flashius und erneut Veks ihre Lines gerappt haben. Das Album kommt leider ohne grosse Highlights daher und plätschert mit dem relativ monotonen Rapstil des MC etwas zu sehr vor sich hin. Prädikat: klassisches Hip Hop Album ohne Klassiker.
Favoriten: Frequency (Instrumental) und Twelve And Fourteen (Instrumental)