Remixes: Made For The Underground (Deluxe Edition)
Die Jazz Spastiks haben das 2016er Album slipmat brothers & penpals – made for the underground ordentlich geremixt und als Remixes: Made For The Underground erneut veröffentlicht. So weit ganz gut. Aber es kommt noch besser. Denn es sind auch alle Instrumentals an Bord. So muss das. Erschienen ist das Doppel-Album über das Berliner Label HHV Records (HHV762). Die Remixes sind auf 500 Kopien limitiert und im Online-Shop von HHV zum Kauf verfügbar.
Trackliste – Remixes: Made For The Underground
(jazzspastiks.bandcamp.com/album/remixes-made-for-the-underground-deluxe-edition)
Side A (C – Instrumentals)
1. New New Fiyah 02:35
2. Oh Fuck Yeah! (feat. Jamii Bass) 03:33
3. Stfu Remix Remix 03:19
4. Grade AA (feat. Pete Flux) 03:20
5. Rap 'n' Stuff 01:28
6. Wild Busy 03:07
Side B (D – Instrumentals)
7. Swift With The Rhymes (feat. People Without Shoes) 03:45
8. Dumb Hot Jazz 03:26
9. Drop The Beat Juggle 02:32
10. Inject Your Eardrums (feat. Marvolus Jay) 03:56
11. Super Smooth (feat. Lars Viola) 03:14
12. Rockin' Funky Lyrics (feat. Junclassic) 04:16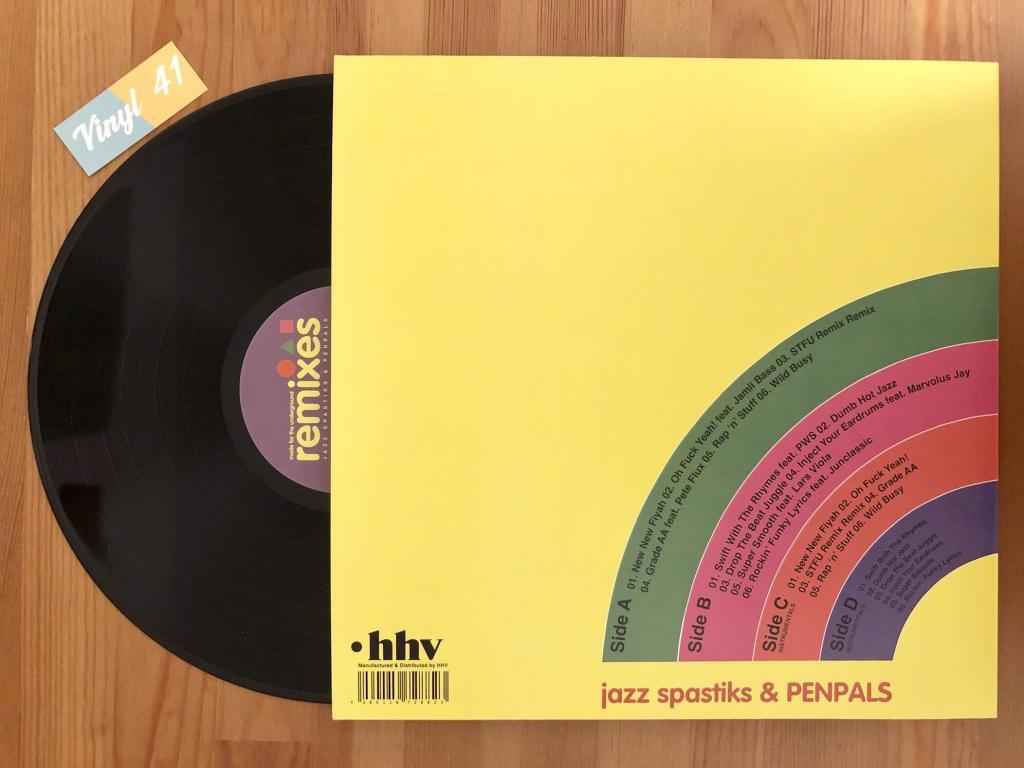 »Limited edition of 500 black vinyl copies worldwide of the Jazz Spastiks' remixes of the classic Penpals album "Made For The Underground" with features by Pete Flux, Junclassic, Marvolus Jay and others. Includes all instrumentals as well. Tip! […]«
released October 25, 2018
Wertung
Meine Wertung: 9/10 für Remixes: Made For The Underground. Da geht aber mal so richtig der Funk ab. Die ursprünglichen und schon exzellenten Beats der Slipmat Brothers wurden durch die Jazz Spastiks ordentlich durchgeschüttelt und aufpoliert. Krasse Hip Hop Beats zwischen Jazz und Funk. Grossartig! Das erste Vinyl hat den Sprachgesang der PENPALS erhalten, dass andere die frischen Instrumentals. Für jeden etwas dabei. Passt.
Favoriten: New New Fiyah, Dumb Hot Jazz und Super Smooth