The Jazz Jousters – Fifth Element
Die Compilation The Jazz Jousters – Fifth Element ist hier im Blog schon mal als Kassette (Sold out!) aufgetaucht. Eine günstige Gelegenheit hat dann jetzt auch das passende Doppel-Vinyl im Vinyl-41-HQ aufschlagen lassen. Gute Entscheidung, denn: vinyl sounds better! Über QRATES hat Millennium Jazz Music 300 Kopien anfertigen lassen. Ein paar Exemplare sind noch auf der Bandcamp-Seite des Londoner Labels verfügbar.
Trackliste – Fifth Element
(Direktlink: millenniumjazz.bandcamp.com/album/fifth-element)
Side A
1. Koncise – Brothers 03:01
2. Stay Classy – JJ V 02:44
3. Says Who? & DJ Vindictiv – Shadows 04:11
4. Charlie Mac – Circumpunct 02:35
5. B3NBi – From My House 02:14
Side B
6. Diligent Fingers – Hidden Treasure 03:13
7. DJ Mentos – Slow Bourbon 03:01
8. Bones The Beat Head – Crime Scene 02:38
9. Es-K – Eternal 02:45
10. B-Side – Red Carpet 03:24
Side C
11. Erik Jackson – Sentiments of Me 03:17
12. Flitz&Suppe – Trigger Theory 02:54
13. RickMal – In A Dream 03:24
14. Slone – Floating Quintet 03:18
15. Pawcut – Nap 01:53
Side D
16. SmokedBeat – Aether 02:29
17. Skinnista – Vision 03:13
18. Mr. Moods – Lazy Afternoon 03:12
19. Blue Buttonz – Paying The Bill 03:35
20. Gadget – Beckoning (Raise It Up) 02:59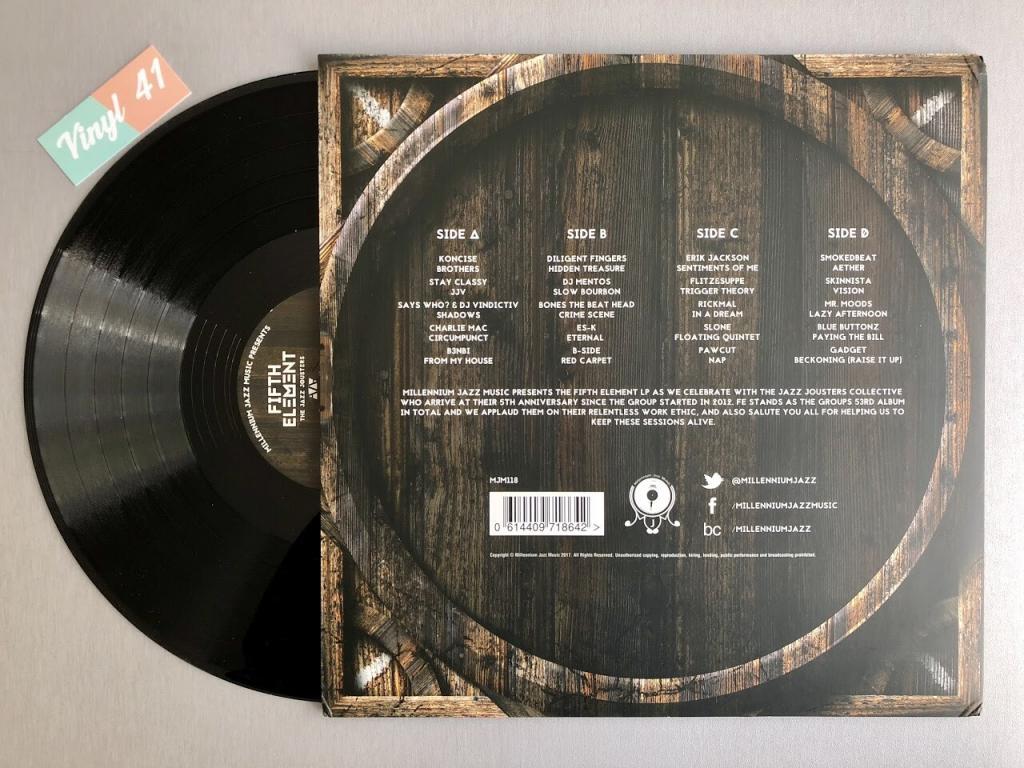 »Millennium Jazz Music presents the Fifth Element LP as we celebrate with the Jazz Jousters collective who arrive at their 5th anniversary since the group started in 2012. FE stands as the groups 53rd album in total and we applaud them on their relentless work ethic, and also salute you all for helping us to keep these sessions alive.«
released July 8, 2017
MJM118: Fifth Element – The Jazz Jousters 5th A
Compiled and managed by Gadget
Digital, tape and vinyl master by Alastair (Skinnista) Ash
All artwork by James Greenway for Design Greenway (www.designgreenway.com)
Wertung
Meine Wertung: 9/10 für The Jazz Jousters – Fifth Element. Für das Album, dass im Jahr 2017 anlässlich des 5. Geburtstages der Jazz Jousters veröffentlicht wurde, wurde wieder ordentlich aufgetischt. 20 oldschoolige Tracks mit jazzigen Beats und Samples hat das Kollektiv vom Label Millenium Jazz Music für das Birthday Spectacle produziert. Wer die Jousters und/oder jazzy Instrumental Hip Hop mag, der sollte sich das grossartige Doppel-Album unbedingt zulegen. Beide Daumen hoch!
Favoriten: Says Who? & DJ Vindictiv – Shadows, B-Side – Red Carpet und SmokedBeat – Aether