Mr. Green – Last of the Classic Beats (Narreted by Kool Herc)
Mit "Mr. Green – Last of the Classic Beats" ist der fünfte und letzte Teil der Classic-Beats-Reihe erschienen. Zum krönenden Abschluss wurde Volume 5 auf schwarzes Polyvinylchlorid gebannt und Kool Herc als Erzähler eingespannt. Das Album ist über Live From Streets Records erschienen (GSE784). Mr. Green, der schon mit Snoop Dogg, Freddie Gibbs, KRS-One, Masta Ace uvm. arbeiten durfte, hat für das Vinyl 15 Tracks realisiert. Neben 10 komplett neuen Produktionen haben auch fünf "Classic Breaks", die von Product Of Tha 90s zusammengestellt wurden, ihren Weg auf die Platte gefunden.
Meine Wertung
Oldschoolige Beats und Samples sowie Field Recordings von einigen musikalischen Live-Events machen dieses Album so interessant und einzigartig. Zudem wird jeder Song mit ein paar Worten von Kool Herc – dem (oder einem) Father of Hip-Hop – eingeleitet. Klassisches Instrumental Hip Hop Album, zu dem das klare Design von Trevor Lang perfekt passt. Meine Wertung: 8/10. Favoriten: Technology, Tanto Blade und Rapid Fire (*).
"Last of the Classic Beats" könnt ihr euch in den Online-Shops von HHV Records oder VinDig zulegen. Es ist echt schade, dass die ersten vier Teile nicht auf Vinyl erschienen sind. Kann sich da mal jemand drum kümmern? Danke!
Viel Spass beim reinhören!
Trackliste
(https://soundcloud.com/greenhiphop/sets/last-of-the-classic-beats)
Side A
1. Better Future 2:05
2. No Disrespect 3:51
3. Youth 1:28
4. It's a We Thing 1:28
5. Technology 2:39
6. My Guitar 1:45
7. Tanto Blade 1:56
Side B
8. Brass Tax 2:40
9. Throw Ya Hands Up 1:32
10. Happiness 2:11
11. The Breaks *
12. The Get Down *
13. Merry Go Round *
14. Rapid Fire *
15. Woooooo *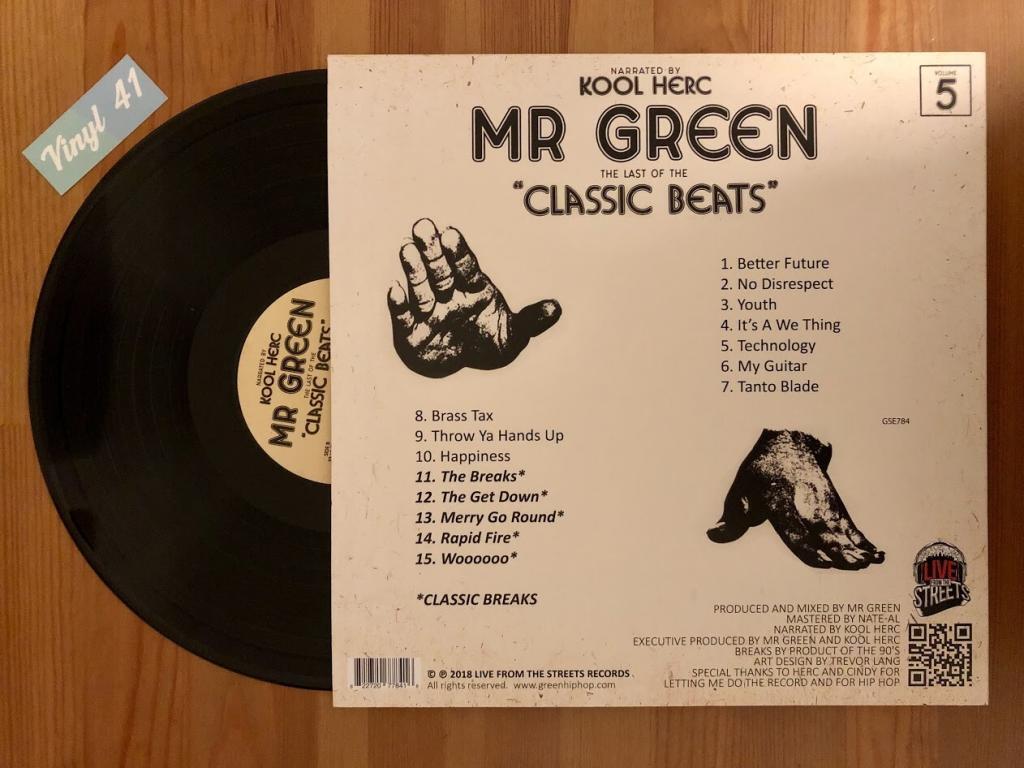 »… Now, a decade after the series began, Mr. Green is ending it in style with "Last Of The Classic Beats", the fifth and final edition narrated by legendary hip-hop founder DJ Kool Herc. It's the first album Herc has been involved with in several years, and a rare chance to hear directly from the "Father Of Hip-Hop" himself …«
released February 15, 2019
Live From The Streets
(* Classic Breaks; Vinyl only)